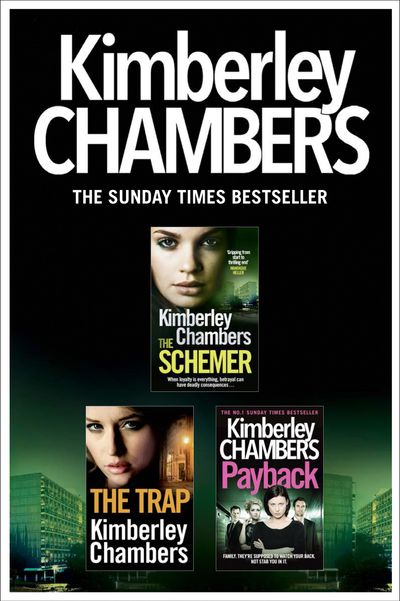 Kimberley Chambers 3-Book Collection: The Schemer, The Trap, Payback
By Kimberley Chambers
*The books included in this collection have been previously published*
Three thrilling novels from #1 Sunday Times bestselling author Kimberley Chambers
The Schemer
The Trap
Payback
THE SCHEMER
It's 1983 and Stephanie Crouch is desperate to escape the council house she shares with her overbearing family, but at fourteen years old she has nowhere to go.
When Stephanie meets East End wide-boy Barry, his cockney charm and quick tongue soon have her head over heels in love. But too young to control their fate, Stephanie and Barry are torn apart, and Barry is heartbroken Stephanie falls for his best mate, still left in London…
Ten years later, Barry returns to England, and within a month Stephanie's happy world is turned upside down.
Is Barry to blame? Or should Stephanie look elsewhere to find the schemer who has ruined her life?
THE TRAP
The heir to Martina Cole's crown with a story of murder, the underworld, violence and treachery. When it comes to family they look after business and make their mother proud. Nothing and no one can bring the Butler's down.
But Vinny seems to have crossed the wrong person and his cards are marked. And with the brothers joined at the hip, Roy may just be in the firing line too… Will the Butlers emerge stronger than ever, or is the East End code of honour as good as dead?
PAYBACK
The Butlers are back in this gripping, compulsive sequel to THE TRAP.
The Butler brothers are the Kings of the East End, and their motto is 'what goes around, comes around'.
In their world, family counts; so when the truth about Vinny's cousin's death comes to light, it rocks the Butlers to the core. One by one, Vinny's friends and family are turning against him…
Then, the unimaginable happens – Vinny's little daughter Molly goes missing. She's the one chink of light in all their lives, and the one they'd commit murders to bring back.
But is it already too late for that?
Perfect for fans of Martina Cole.
"Praise for Kimberley Chambers:'[Kimberley Chambers is] the queen of the gritty, low-life tale . . .a fast-paced, thrill-a-minute ride that takes you on all sorts of twists and turns" - Bella
"'Easily as good as Martina Cole" - News of the World
"'Brilliantly delivers a story of violence, treachery and family ties… Easy to read and hard to put down" - News of the World
"'[a] fast-paced tale with gritty authenticity" - The Guardian