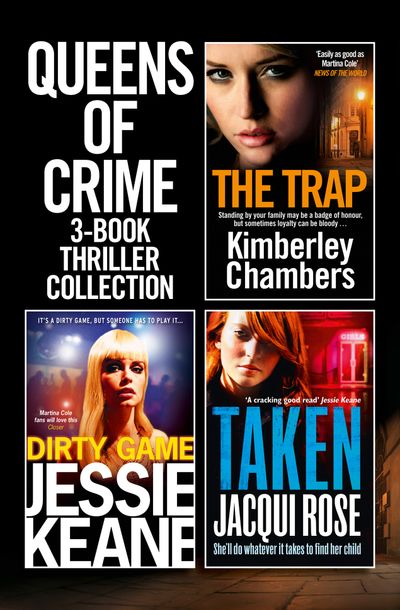 Queens of Crime: 3-Book Thriller Collection
By Kimberley Chambers, Jacqui Rose and Jessie Keane
Three thrilling novels from the queens of East End Crime…
The Trap by Kimberley Chambers
Dirty Game by Jessie Keane
Taken by Jacqui Rose
THE TRAP by KIMBERLEY CHAMBERS
The heir to Martina Cole's crown with a story of murder, the underworld, violence and treachery. When it comes to family they look after business and make their mother proud. Nothing and no one can bring the Butler's down.
But Vinny seems to have crossed the wrong person and his cards are marked. And with the brothers joined at the hip, Roy may just be in the firing line too… Will the Butlers emerge stronger than ever, or is the East End code of honour as good as dead?
DIRTY GAME by JESSIE KEANE
Adultery, murder and dangerous love collide in Jessie Keane's gritty debut novel.
For longer than she cares to remember Annie Bailey has lived in the shadow of her older sister Ruthie. Now Ruthie has her hands on Max Carter, the much feared head of the Carter family and a top class villain.
Seducing Max wasn't a problem, but the guilt, shame and anger of rejection afterwards was.
Annie has unwittingly placed herself between two rival gangs and upset too many people, and these kind of people don't forget. But as everyone knows, Annie Bailey is no ordinary woman.
TAKEN by JACQUI ROSE
Casey Edwards has demons to put to rest. Since she had to give away her baby at 15, she's been lost in booze and bad company. But now she wants to find her child and put things right…
Heading to Soho, Casey meets former gangster Vaughn Sadler, an old-school hard man who can still handle himself – and anyone else. There's a spark between Vaughn and Casey but she can't let herself get hurt, not again.
To find the truth, Casey must enter the dark world of London's gangland: hard drugs, vice, even people trafficking. Full of strong women, devious gangsters and compelling twists, Taken is compulsive read perfect for fans of Jessie Keane and Martina Cole.
Praise for Kimberley Chambers: -
"'Easily as good as Martina Cole" - News of the World
"'Brilliantly delivers a story of violence, treachery and family ties… Easy to read and hard to put down" - News of the World
"'[a] fast-paced tale with gritty authenticity" - The Guardian
Praise for Jessie Keane: -
"'This is a riveting story, with gutsy, gritty characters and a genuine feel for the period." - Books Monthly
'Perfect for fans of Martina Cole and Lynda La Plante' Glamour -
'Gritty and powerful, Martina Cole fans will love this addictive novel' Closer -
Praise for Jacqui Rose: -
"'Gritty and gripping - by a star in the making." - Kimberley Chambers
"'A thrilling and gripping novel." - Roberta Kray
"'A cracking good read." - Jessie Keane
"'A captivating read from one of my favourite emerging authors" - Mel Sherratt